Why would you want to have a wall mounted fan when you can easily just purchase a desk fan which is can be easily moved around? Why else would you want a fan that needs proper installation when you can conveniently purchase one that does not need to be installed.
Instead of putting a desk fan on that beautiful corner in between your new leather couches or mounting a ceiling fan in the middle of your room, why not put more appropriate decorations to make those corners look even more beautiful? This does not in any way mean to forget about the much-needed fan to provide comfort to the room but it opens up a better option, which is installing a ceiling fan mounted at the wall.
Best Features of Wall Mounted Fans
Wall mounted fans have become a popular choice for parents as it keeps their kids' little mischievous fingers away from the fan blades. They are generally safe since they are out of reach of the children and pets.
This type of fan also saves space as they are mounted on the wall; therefore, giving more floor space. It is convenient and practical for large rooms where desk fans cannot provide efficient air circulation and for small rooms where there is limited floor space.
It consumes less electricity yet provides a better cooling effect if to be compared to a ceiling fan. Many models are very easy to assemble and mount on walls. Plus, they are easy to clean and maintain.
What To Consider When Buying Wall Mounted Fans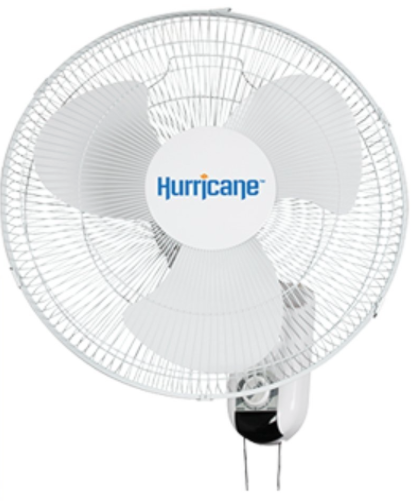 Chances are a wall-mounted fan is just second on your list with the first one being ceiling fans. However, you must have been advised that if you need more breeze to go around the room you are trying to cool, then you would have to choose a fan that can be mounted on the wall.
They love it when it is operating so efficiently and giving such a cool breeze on hot summer days but then hate it whenever they see more attractive designs by ceiling fans or the likes. Still, most consumers choose functionality over style and design. If you are one of them, here are some quick buying tips:
Check the wall where you plan on mounting the fan. It's important that you have the right mounting kit for the wall material, or else it's going to be an accident waiting to happen. Is it wood or is it a brick wall? Find the necessary mounting kit suitable.
Room Size
Determine the size of the room you are to put the fan in. This will give you a better idea of how big or small the fan should be. With the ideal blade diameter, you enjoy better ambient air comfort.
Since you will mount it on the wall, it's important that the fan has a pivoting head to provide better airflow since it can circulate air better with this feature.
Do you want a remote-controlled wall mounted fan or not? It may prove too much hassle for you to get up every time you need to turn it on or off, or adjust the settings.
Best Reviewed Wall Mounted Fans on Amazon
To give you an even better idea about the best wall mounted fans in the market today, here are the top 3 best reviewed models on Amazon.
Air King 9020 Industrial Grade Wall Mount Fan
The blades are powder coated metal blade of the Air King 9020 and comes with three speeds given the 1/6 horsepower capacity. There is a rear mounted pull cord switch and a black 9-foot 3-conductor SJT type power cord.
This wall mounted fan has been given a rating of 4.5 stars after 43 customer reviews at Amazon with most customers saying that this is indeed one of the greatest if not the greatest. It circulates air very efficiently and quite easy to install. Customers commonly installed this at warehouses, barn houses, garages, and workout rooms.
Hurricane Fans Wall Mount Oscillating Fan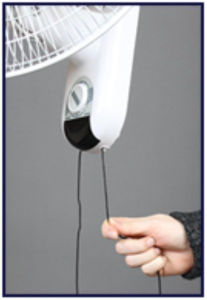 This features a 16-inch diameter fan blade and a 3-speed motor with 90 degrees of extreme oscillating angles. The speed settings are controlled by a turn switch with two convenient pull cords for speed and oscillation control. There is a durable steel neck to provide support to this extremely durable wall-mounted fan.
Being the #1 bestseller fan for wall mounted, this shines with 4.5 stars on Amazon. Customers who bought the Hurricane fan, extremely love its efficiency and the fact that it is easy to install, runs quietly, moves plenty of air, and still helps them save with electricity costs.
Lasko 2265QM 20-Inch Max Performance High Velocity Floor/Wall mount fan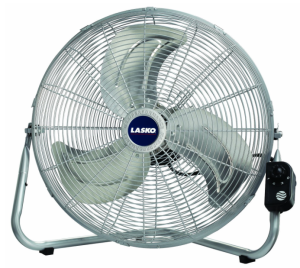 The Lasko 2265QM features a quickmount wall system so the fan can be attached to the wall. This fan comes with an option to place it safely on the floor and attach it to a wall. This wall fan measures 20-inch diameters and comes with metal blades to deliver max performance for air movement.
The speed is controlled with 3 speed modes and can produce a maximum of 3670 CFM. Although this fan is a bit loud, many customers are extremely happy with the power of it. It also comes with a 6-inch power cord.
The Lasko is also flaunting an average of 4.5 stars out of the almost 500 customer reviews it has received. The overall very positive feedback from buyers is a good indication of the quality of this model.
A buyer who does his due diligence and make some research before making a purchase is bound to get the best value for his money. Are you a smart buyer?