Designing and decorating a child's room is definitely fun and exciting. Many parents would want a child's room to be not only a safe haven for their children but also an avenue where they can play, explore and learn.
Equally important in keeping the room safe and secured is keeping it a room for adventure and exploration. For most, colorful wallpapers, beddings with their child's favorite cartoon character, fancy toy boxes and study tables are among the many things people emphasize when it comes to designing and decorating a child's bedroom. But did you know that you could also make use of vibrant ceiling fans for kids as part of your decorative ideas?
Ceiling fans for kids have become an additional "must-haves" when it comes to designing and decorating a child's room. Not only are these types of ceiling fans a saver when it comes to keeping the room cool, it also adds vibrancy to the room because of its fancy and full of life designs. There are even kids ceiling fans that resemble a soccer ball, a flower and other objects that will really set off your child's imagination.
What To Consider When Buying Kids Ceiling Fans
Just as with buying other furniture and appliances, buying a ceiling fan for your kids must be well-researched. Here are some tips to help you find that perfect ceiling fan for your child's room:
There are numerous brands that offer the best deals for kids ceiling fan. The best way to distinguish one from another is to know first what design would best fit on your child's room. Each of the ceiling fans you'll soon be choosing is designed to fit in for a particular child's room theme, so you must have already conceptualized that kind of ceiling fan you'd want to have.
There's not a single ceiling fan that can incredibly fit in any room, regardless of size. Ceiling fans for kids come in any sizes: there's one for large rooms and high ceiling while there are those that can snug in small rooms and lower ceilings. You should know first the dimensions of your kid's room.
Decide Where You Want to Install the Fan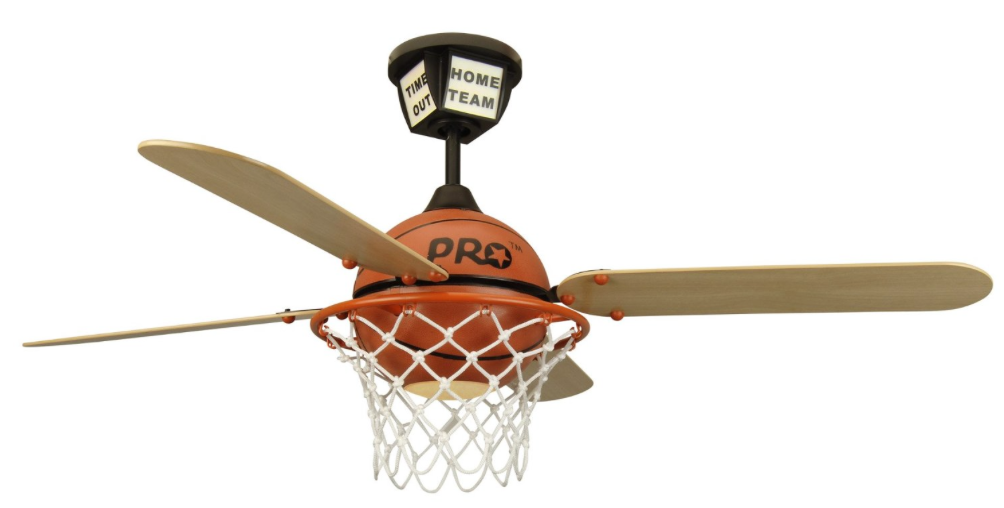 Where do you intend to place the ceiling fan? As a safe rule, ceiling fans must be placed not lower than seven to eight feet from the floor. If the child's room is low, a hugger ceiling fan is a good choice, for those with high ceilings; a down rod can be helpful to make the fan draw close to the floor.
Look for ceiling fans for kids that have Energy Star seal. This seal simply tells that the ceiling fan is energy efficient, even if it has lights with it. There are also fans that have reverse motor that gives you the convenience to adjust the fan on weather conditions.
How do you want to operate the ceiling fan? Pull cords are the traditional way of controlling ceiling fans, but newer models now offer wall controls and remote controls for convenience.
Best Reviewed Ceiling Fan for Kids on Amazon
When shopping for kids ceiling fans, one of the best way to see if a product is worth the purchase is to check the customer reviews. Here are three of the best reviewed ceiling fans for kids on Amazon:
Hunter 23781 Dreamland Ceiling Fan
This ceiling fan with light is just perfect for your little princess' bedroom. Featuring five pink blades with flower details, bedtime is a trip to dreamland every night. The lights have pink shades and use candelabra base incandescent bulbs. You can choose to install the fan without the lights.
With an average of 4.6 stars out of 49 customer reviews, customers (mostly ecstatic parents) rave about this ceiling fan for kids from Hunter. Many say that's really cute and has a very quiet fan.
Craftmade WB3448TS Warplane Ceiling Fan

Little boys are going to love this ceiling fan! It features three blades painted to look like those of a warplane plus an integrated light kit with a pull chain. Dreams of flying are going to be part of your child's childhood and you may just be harboring a next generation of Air Force pilot.
This ceiling fan from Craftmade has an average of 4.8 stars from its 20 customer reviews on Amazon. Perhaps the biggest issue that a customer has come across was the slight difficulty in installing the ceiling fan; other than that, everyone had loved it!
Westinghouse 7247500 Roundabout Ceiling Fan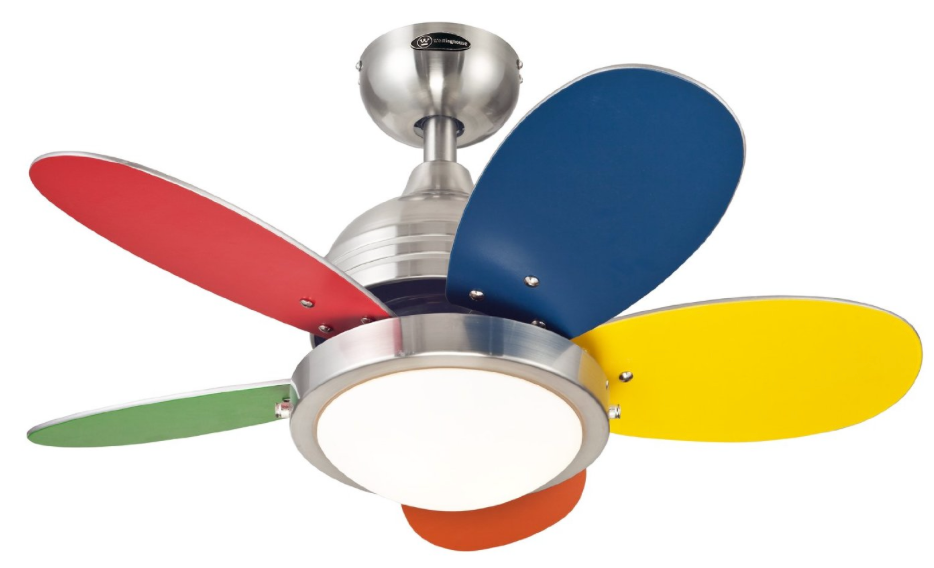 Add more color to your child's room with this fun ceiling fan with lights from Westinghouse. It has five blades in different colors, or you can reverse them and get an all-white ceiling fan. Being a roundabout ceiling fan, it runs counterclockwise in warm weather to cool down the room and runs clockwise in cold weather to recirculate warm air.
It has an average of 4.3 stars from 22 customer reviews. The most complaints for this particular kids ceiling fan seem to be its not-so-quiet operation, but that is easily overshadowed that this is just one super cool fan!
Of course, you would want to have the best for your kids. That's why it's important to do some research first so you know what you are looking for to make the right choice.