Ceiling fans are probably one of the most taken for granted appliances in the house that when put into good use can make you feel comfortable and save you on your electric bills. Have you ever wondered why electric fans are still here after so many centuries and even after the invention of air-conditioners and air coolers?
They have truly come a long way yet they still offer more or less the same benefit as those first days. With the wide array of ceiling fan manufacturers today, it can be pretty easy to get confused in the selection part. Let us take a closer look on one of the top manufacturers in lighting products and quality ceiling fans – the Craftmade.
Craftmade: A Short Overview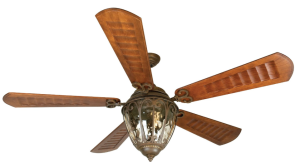 Enjoying a solid reputation for more than 25 years already, Craftmade has made a name for themselves and a good one for that matter. They are popularly recognized not just in the ceiling industry but in the residential lighting industry as well.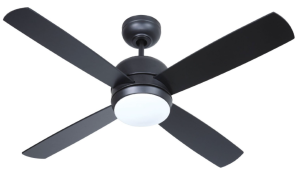 However, what made Craftmade even more successful was when they decided to join forces with some of the best-known industry brands such as Ellington Fans, Exterior Outdoors Lighting, Jeremiah Lighting, and Teiber Products. This paved way for the residential lighting industry and ceiling fan powerhouse we now know as Craftmade.
With the merging, Craftmade was able to improve their internal efficiencies in product design, logistics, and manufacturing. Quality control measures became stricter than ever while customer service was enhanced. As a result, there is a steady stream of high-quality products that you would not find any other else.
Craftmade Ceiling Fans: What Sets Them Apart
Having access to the finest raw materials and components, Craftmade is able to continuously produce the most reliable and durable ceiling fans today. The whole ceiling fan line features durable fashion with well-designed and well-executed blades which paves way for optimal air movement. Hence, the Craftmade ceiling fans are able to provide ultimate comfort while reducing electricity consumption.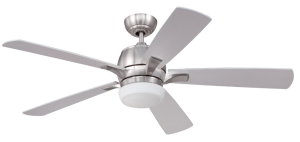 The great reliability of Craftmade ceiling fans is because of the stringent quality control measures that are observed in each stage of the manufacturing process. From checking the motor functionality to the controls and lighting to checking the blade aesthetics and balancing, and up to the product finishing, the quality control engineers make sure that everything is in order.
As a result, consumers get many years of not just having beautiful ceiling fans but with quiet and reliable performance that eventually translate to more energy savings. In addition, Craftmade's Innovative Total Control system adds a wireless remote control to a range of Craftmade ceiling fan models.
Top 3 Best Reviewed Craftmade Ceiling Fans on Amazon
Being considered the right choice among the wide variety of ceiling fans available in the market today, Craftmade ceiling fans have gathered a loyal pool of consumers that keep coming back to them after having experienced the comfort, reliability, and durability.
Here are the top 3 best reviewed Craftmade Ceiling Fans:
Craftmade JU54PLN Juna Ceiling Fan with Flat Black Blades and Integrated Light Kit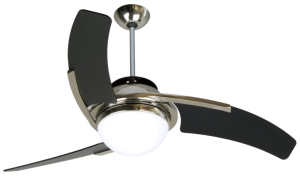 With a shining brighty 4 stars we give the Craftmade JU54PLN Juna 54-inch ceiling fan which features modern geometry with swept wing blades in a black gorgeous nickel finish paired with an integrated halogen down light.
Best to complement dining rooms and/or living rooms, this has an overall height of 17.5 inches with the longest downrod included in the package though it is adjustable with shorter downrods that can be purchased separately.
Consumers who have purchased this have nothing but good words to say. It is quiet, looks exquisitely modern, and a bonus would be the bright light. It comes with a remote control and installation should be relatively easy if you read the instruction manual first.
Craftmade WB3448TS Ceiling Fan with Integrated Light Kit
With an almost perfect rating at 4.5 stars, the Craftmade WB3448TS ceiling fan is aviation inspired with a painted, flush mount body in rich wood finish and painted tips. If you have always been intrigued by the war planes, then you should know that this one depicts the fiery eyed monster that graced the P-40 fighter jets then.
Perfect for historian's hobby room or a ceiling fan in the kid's bedroom or playroom or a soon-to-be pilot's room, this Craftmade WB3448TS features triple blades that operate on a reversible speed to promote optimal air movement. Furthermore, the package includes an integrated light kit with 60-watt candelabra bulb providing a warm and ambient glow for that cozy-looking space.
Craftmade WB242SC Ceiling Fan with Integrated Light Kit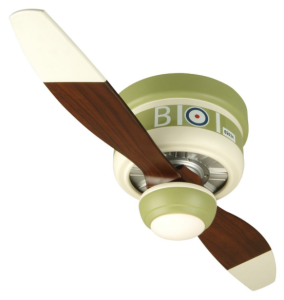 Another one beaming with 4 stars is the Craftmade WB242SC 42-inch ceiling fan that is aviation inspired as well. Yes, aviation inspired ceiling fans seem to be a great hit amongst the Craftmade ceiling fans recently.
Consumers who have bought this say that this is indeed a highly functional fan with a great history to tell (that is if you are a history buff). Every single piece is obviously made of very high quality with a motor that runs so smoothly. It has three speeds and has a reversible function as well. This also comes with an efficient remote control that has a wall mounting kit included in the package.
Check out more ceiling fans in our ceiling fans buying guide.