By now, you must have heard about the buzzes on how ceiling fans can save you a whole lot on your electric bills but never really got the chance to research more about it. You probably also has some doubts on the real principles behind this. By literally comparing air-conditioners and ceiling fans side by side, it is no wonder that ceiling fans consume less electricity but it just would not give the same cooling effect.
That is exactly true given the fact that a typical air-conditioning unit consumes about 3,500 watts of energy whereas a ceiling fan uses only merely 60 watts even at the highest speed. However, this does not mean that we are encouraging you not to use your air-conditioners anymore. We are only saying that if you have been running your air-conditioning units day and night, cutting it down to even half and using your ceiling fans could make a tremendous difference on your electric consumption.
How A Ceiling Fan Lowers Your Energy Bills
Ceiling fans can most definitely lower your energy bills without compromising comfort. Aside from the fact that ceiling fans consume less energy, users just have to figure out the ways on how to maximize its benefits. Ceiling fans move air and the efficiency depends on which brand and model you will be choosing.
Generally, room temperature will not change much with the use of ceiling fans as opposed to air-conditioners but one can feel the breezy comfort and the cooling effect if the blade movement is in the right direction. Most people feel this as a more natural climate. Technically, for warm summer months, the direction should be counterclockwise so that the warm air will be moved upwards thereby leaving the cooler air.
But for the cold winter months, the direction should be reversed to clockwise to push the warm air above downwards. This shall then provide you some of the heat you need to feel more comfortable.
When choosing a ceiling fan, take note of the features that are supposed to make it run more efficiently. This usually translates to lower operating costs. The most obvious trick here is to find a ceiling fan that is Energy Star certified.
The Top Tips to Make You Save Energy with Ceiling Fans
So you have finally decided that turning the air-conditioning unit 24/7 is not doing your budget any good and you want better alternatives which led you to nothing but your good old and trusty ceiling fan. With careful planning, a little bit of tinkering, and a load full of our simple but effective hacks, you can surely save energy and increase your savings in no time.
Set the home temperature higher during the summer season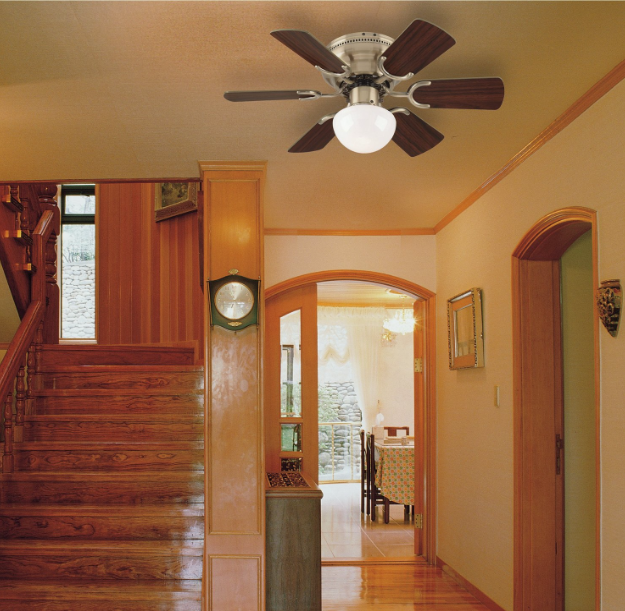 This is quite confusing since a warmer temperature would naturally make you want to lower down the temperature to make the room cooler. However, doing so puts a tremendous work on your air-conditioner making it work harder. But by raising the thermostat and turning on your ceiling fan, you will feel cooler simply because there is better air circulation.
A breeze effect is what happens when you do this hack making the room almost instantly more comfortable and feel cooler than it actually is. Think of why it is refreshing to stay near the beach and feel the breeze even on a hot day. It is because of the wind that continuously blows for a breezy effect. It is pretty much the same principle you want to create for your home.
Turn your ceiling fans off when not in use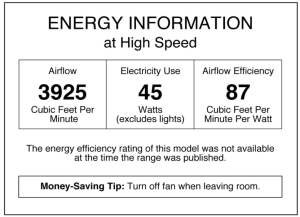 As opposed to air-conditioners that have timers, ceiling fans do not come with timers and so, the need for you to manually turn them on and off each and every time you are going to use it.
If no one is in the room, turn off the ceiling fan. This is one of the most basic things that everyone must practice in order to save energy in general. When an appliance is not in use, turn it off so that it would not consume any energy. Make this a daily ritual and you will be amazed of the savings as will be reflected in your monthly electric bills.
Counterclockwise direction during summer season
Most modern ceiling fans today have a clockwise and counterclockwise setting. The reason behind this is because depending on the alignment of the blades, it will give out a different effect which is suitable for two seasons – summer and winter. Ask the professional during the installation to explain you the settings.
In the counterclockwise position, you will feel a comfortable breeze. During summer, it is suggested to turn the ceiling fans on high speed as the air blows down directly below the fan, therefore, creating continuous air movement and eventually making the persons inside the room feel cooler.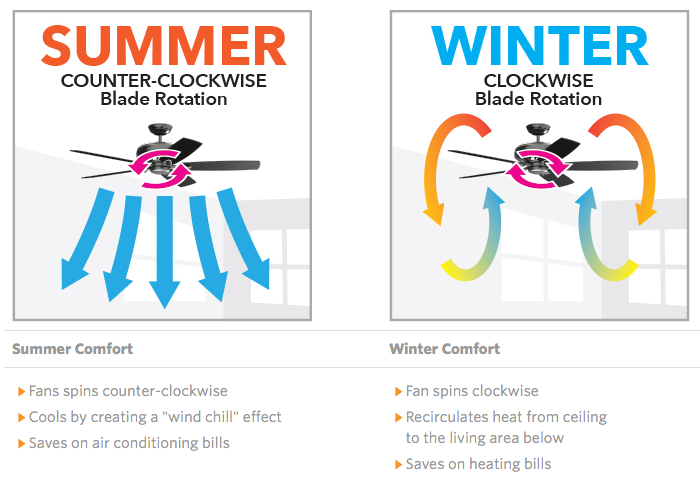 Clockwise direction during winter season
By flipping a button, one can easily reverse the direction of a ceiling fan. If you put the direction on a reverse or clockwise direction, the blades of the ceiling fan pulls the warm air from above and pushes it down the center of the room, therefore, making the room feel warmer and more comfortable.
As a result, the warm and cool air will mix which then eventually results to a steadier room temperature. The usual heat build-up on top of the ceiling is prevented as well as, a cold freeze near the floor. With a steadier room temperature, your furnace does not have to work as hard as it usually does, and so, consumes less electricity making you save more.
If you want to get the maximum benefits with regards to energy savings, you have to choose the right ceiling fan that is appropriate for your room and your needs. You just cannot expect to save more with the wrong kind or type of ceiling fan for the room. Know the different types of ceiling fans and the corresponding blade sizes for the room size and you can definitely expect to save more energy in the long run.