Whatever the season is, ceiling fans are efficient home appliances in cooling your homes without the expensive tag price of electric bills compared to using electric fans and air conditioners. As a throwback to the lazy days when people don't want to fan themselves anymore, ceiling fans never lost its charm even after so many centuries had passed from its creation.
Aside from saving you money, ceiling fans also make stagnant air circulate around your home better than an air conditioner. They also provide a classic look to any home given their more fashionable design nowadays.
Nevertheless, ceiling fan manufacturers abound that might make choosing the best ceiling fan for your home quite difficult. With that in mind, we chose one of the best ceiling fan manufacturers in the market for its fashionable yet very functional ceiling fans – Monte Carlo.
Monte Carlo: A Short Overview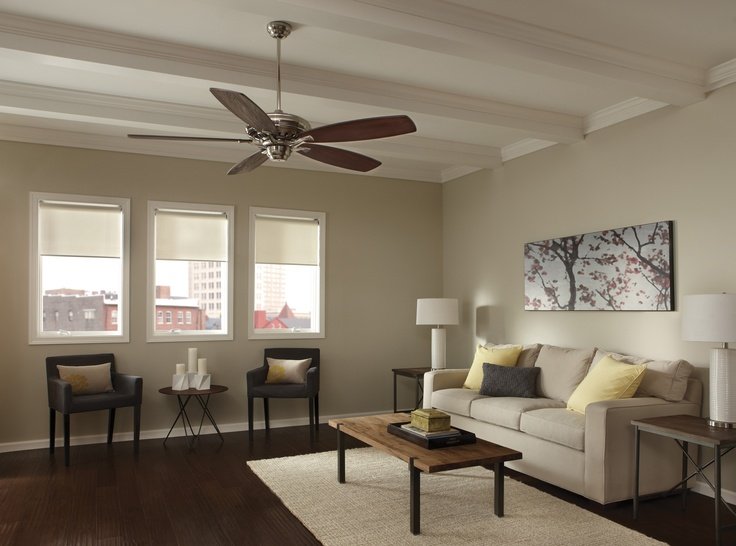 Originally, the Monte Carlo Fan Company was created as a division of Generation Brands Company by father and son, Hub and Mike Markwardt. Monte Carlo, on the other hand, was specially created to inspire a trend of using high-quality performance grade ceiling fans that will also work as a stylish house décor.
Ten years after its founding in 1996. Monte Carlo is now a name synonymous to fashionable ceiling fans with the best performance. Now, their ceiling fans are not just used to make a room stay cool, it has become a fashion trend to accessorize homes and make it even more appealing, regardless of the setting.
With meticulous design details for complete aesthetics, Monte Carlo's ceiling fans are not just made to be beautiful but are also engineered to work efficiently. With these two qualities together with unprecedented customer service, Monte Carlo has now become one of those places where you can find the best ceiling fans that you just cannot find anywhere else in the market.
Monte Carlo Ceiling Fans – What Sets Them Apart
Using only the best of components and raw materials, Monte Carlo is able to produce one of the top performance ceiling fans that are not just perfect in design but are also durable. But what sets ceiling fans from Monte Carlo apart from other manufacturers is that they can be considered home accessories that are functional in cooling air with the best of energy savings.
With strict quality, good warranty and design measures, Monte Carlo's ceiling fans follow a fashion trend that fits anywhere making it a perfect match for just about any home setting. Their dedication is to provide customers with efficient fans that works best with the least energy consumed thus providing great savings in energy costs.
With the addition of efficient motors and whisper-quiet blades, Monte Carlo has redefined the way how ceiling fans are used inside homes making it more of a lifestyle enhancement that exceeds customer expectations as they take delight in offering the best of products tailored fit to every client's sense of style, comfort, and convenience.
Top 3 Best Reviewed Monte Carlo Ceiling Fans
As a dedicated manufacturer of high quality fans, there are three Monte Carlo ceiling fans that stand out from the rest and are the best reviewed. These are:
Monte Carlo 5DI52WHD-L Discus Ceiling Fan with Light Kit and White Blades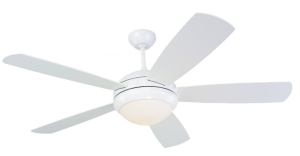 On top of the most reviewed ceiling fan by Monte Carlo, the Monte Carlo 5DI52WHD-L Discus averaged a 4.1 star rating from 82 customer reviews. With a clean finish done in white, this 52-inch ceiling fan features an impressive matte opal glass and an integrated light kit of 75 watts Halogen light.
Best installed in bedrooms, the Monte Carlo Discus ceiling fan provides a modern yet minimalistic design for any bedroom. The motor of this ceiling fan comes with a manual reversing switch with a three-speed pull chain or you might want to buy the optional remote for better controls.
Customers very much agree that Discus far exceeds other ceiling fans that are priced higher with its very quiet and efficient fan operation. Not only that, this ceiling fan has a very good construction and the inclusion of the halogen light provides a reasonable amount of bedroom lighting.
Monte Carlo 5DI52RBD-L Discus Ceiling Fan with Light Kit
Right on top two, the Monte Carlo 5DI52RBD-L Discus looks very much like the White Monte Carlo Discus. The biggest difference of the two is that this one is finished in Roman Bronze.
Best for indoors, this Roman Bronze 52-inch ceiling fan utilizes a Graduated Amber glass with a 75 watts Halogen bulb. The 12-inch blade pitch provides optimum air movement and a wobble-free operation thanks to its precision balanced motor.
Customers rated the Monte Carlo Discus Roman Bronze with 4.3 stars from 58 customer reviews. Buyers are very much taken with the rich and elegant color of the Roman Bronze finish and the amber tint of the glass resulting to a golden glow making any room look cozy and homey.
Monte Carlo 3TF24WH Micro Ceiling Fan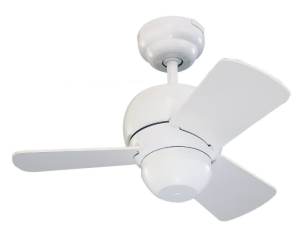 Last on the list is the Monte Carlo 3TF24WH which is a micro 24-inch ceiling fan. While the small fan blades might dissuade you, 43 customers rated it a score of 4.4 stars.
The ceiling fan may just have three working blades but it's the perfect air cooler to choose for your hallways, walk-in closets, utility rooms, covered porches, bathrooms, or any other closed spaces that need air. The small blades make it perfect for mounting on low ceilings and also make up for easy three speeds made possible by the pull chain.
Monte Carlo ceiling fans are a great addition to every style full room, just like the city of Monte Carlo in Monaco.