The use of outdoor ceiling fans is a trend that has been growing in popularity lately, particularly because the days are becoming hotter and hotter. More than that, your patio, cabana or whichever outdoor area you place the ceiling fan in will instantly look much more stylish and inviting. However, it's important to note that not all ceiling fans are the same or suitable and choosing the best ones for your particular needs will pay off by not giving you grief in the future.
Features Of Outdoor Ceiling Fans
When it comes to ceiling fans that are specifically for outdoor use, you will want to look out for quite a few things. The following features should give you an idea of what these things are which will arm you with the knowledge you need to either choose the ceiling fans you want yourself or to get more information out of customer service personnel once you meet them.
So on to the features. Typically, ceiling fans suitable for outdoor use will have the following:
Blades (typically 2 to 5)
Motor (sizes differ in terms of number of blades, design and usage)
Cord
Down rod
Light fixture
Fan control (remote or switch)
What To Consider When Buying An Outdoor Ceiling Fan
Now that you know the basic parts of a ceiling fan, let's get into the things to consider when buying one. This is particularly important if you can only afford to get one and you are not the type to have it replaced, either because you are too busy or because you just don't think it's worth it.
Note: If you are not satisfied with a fan and the store or merchant accommodates returns, refunds and replacements, you should certainly do so.
Since we are talking about outdoor ceiling fans, you will of course want to go for models that were specifically made for such uses and these certainly exist. They also come in two types and can be rated either for damp or for wet location use. Sometimes, they can be both.
If the ceiling fan will be in a location that is covered such as patios, you want the damp location fan type. For locations where water drops might be an issue, you will obviously want to go with wet location fan types.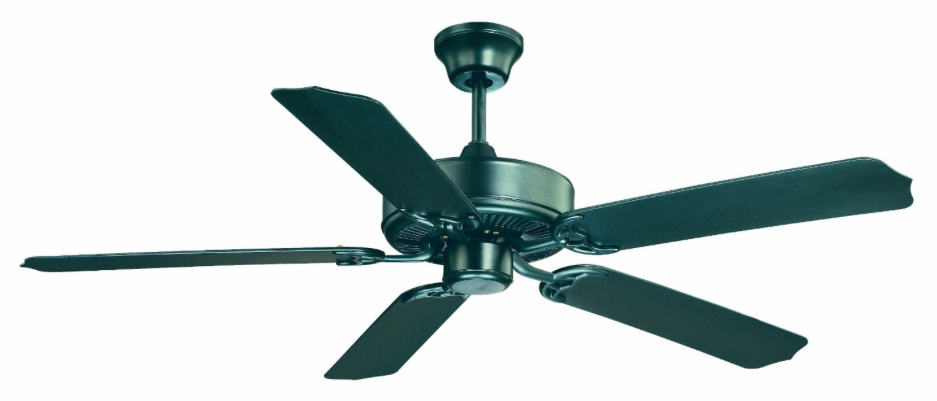 Getting on to it, the first thing that you should consider before buying a ceiling fan to use outdoor more than anything else is the type of blade that it has. The main materials are metal (aluminum, bronze, etc.), plastic and wood (pressurized hardwood, particle board, etc.).
Plastic is the cheapest blade material in the market, but is not the most stylish of the bunch. It will do the job, last a long time in weather but if you can go for better materials, you certainly should.
Metal blades can be the middle-ground in terms of the prices and they do move more air around thanks to their shape and density. However, they are also noisy, are subject to rust and can be bit distracting. If you are out in the gazebo to just rest and relax, this is not ideal.
Wood – depending on the make and design – can be the most expensive but are also the most suitable for outdoor use. They simply suit the theme more, can possess particularly elegant designs and can move air quietly.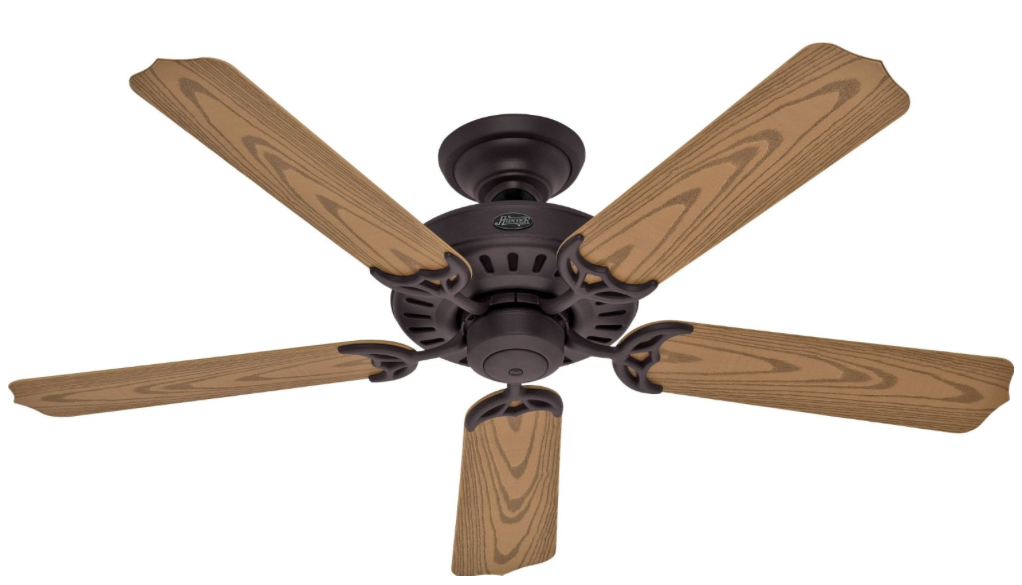 The size of the motor that the ceiling fan will come with will need to suit your situation in order for it to serve you best. Ceiling fan motor housings can be either die cast or it can be stamped steel. Stamped steel is the cheaper of the two but it is also more likely to cause problems like wobbling. For long-term investments therefore, you will want to go for die cast to house the motor.
Regardless of whether you are planning on putting a light on your ceiling fan, making sure that it will have a light fixture is highly recommended. This will ensure that if ever you do need some light, that option is available to you.
Best Reviewed Outdoor Ceiling Fans In Amazon
Now, here are some of the best reviewed ceiling fans suitable for outdoor use in the merchant site Amazon.com to give you a better idea of what to look for.
Here is the 53126 model from the Hunter Fan Company with an average of 4.8 stars out of 10 customer reviews. It is designed for fairly large rooms, Energy Star rated and comes with 5 Oak weatherproof plastic blades with a diameter of 52 inches. It has 3 fan speed options and has been rated superior in terms of energy efficiency.
Savoy House 52-EOF-5MB-FB Nomad
The Nomad outdoor ceiling fan from Savoy House has an average of 4.6 stars based on 31 customer reviews. It comes with 5 blades, matt black blades (other colours available), Energy Star rated,  3 speed, reversible motor, so you can use it both for winter and summer seasons. It is compatible with a separately sold light kit.
This 5-bladed ceiling fan from Minka Aire also has 3 speeds, though sadly it is non-reversing. It has a diameter of 42 inches and has an oil rubbed bronze colour. The F572-ORB has received an average of 4.3 stars from 35 customer reviews.
If you are shopping for an outdoor ceiling fan especially now that the weather is becoming warmer and more humid, we hope you have found this article helpful in your buying decision.