Bathroom ceiling fans or more known as ventilation fans are now more needed than in the previous years. However, this this imperative need, they have become more efficient and less costly to use. A couple of good years ago, people would rather get what they think are more important appliances.
Today, bathroom ceiling fans provide a safe and comfortable living environment as it further ensures proper ventilation and even goes further to ensure that there would be less contaminants in small and high-risk spaces such as the bathroom.
Best Features of Bathroom Ceiling Fans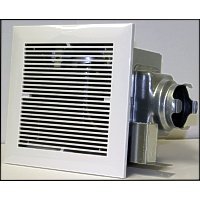 Bathroom ceiling fans now offer a variety of performance levels, styles, and functionalities to suit one's needs and preferences. You might actually find more choices that you are expecting once you head out to appliance stores or online stores. You would encounter all sorts of features which can be quite overwhelming especially given the fact that you were out to look for a simple ceiling fan to make the few minutes that you spend in the bathroom a bit more comfortable.
You may even be asking when bathroom ceiling fans needed to exude a perfect combination of stylishness and performance. Things are changing and there is without a doubt that people have become more fashion conscious.
To help you choose better if you are out to get yourself the best bathroom ceiling fan there is, here are some of the features worth looking for:
Variable air movement
Sound level
Energy efficiency
Removes humidity, mildew, and mirror fog
Removes odors
Continuously run
Comes coupled with light fixtures
Recessed design to blend in
Humidity sensors
Equipped with heater
Decorative design
What To Consider When Buying Bathroom Ceiling Fans
Are you looking for the perfect way to add in airflow to your bathroom? Do you have to deal with mirror fog each and every single waking day after taking a shower?
Having an increased airflow inside a room with increased humidity helps reduce steam and moisture, therefore, preventing mirror fog which is a common problem. In addition, bathroom ceiling fans will definitely help you dry faster the more natural way instead of having to reach for your blow dryer.
To help you find that ideal ceiling fan for your bathroom, we have put together some useful tips to guide you:
Check your bathroom size. Not knowing the bathroom size is one of the most common mistakes that consumers make when looking for bathroom ceiling fans. They refer to it as small, medium, or large and then later on complain that it is not sufficient or the fan is overwhelming. Know that there are guidelines with regards to fan capacity or what is called the cubic flow per minute and the bathroom size.
Basically, for a 5 x 8 feet room, you need 50 CFM, for 9 x 11 feet room 110 CFM, and 150 or higher CFM for large areas that measure 9 x 11 feet or more.
Check how noisy it is. Bathroom ceiling fans are generally not obnoxiously noisy but there are some that tend to sound louder than others. For this, check out their noise level and make sure to get the quietest one.
Does the design match your bathroom? We all want things that are pleasing to the eye. It surely helps take some of our daily stress away. Choose the ceiling fan that will somehow match or at least look good in your bathroom. It is your call whether you want a classy finish or something that stands out right away.
Top 3 Best Reviewed Bathroom Ceiling Fans on Amazon
The best bathroom ceiling fans costs anywhere from around $40 to as much as $200. The average would be somewhere in between. However, the price does not always dictate the efficiency of the product. To give you an idea, here are the best ones with the highest ratings gathered on Amazon.
Panasonic FV-11VQ5 WhisperCeiling Fan
This is actually the bestseller among the bathroom ceiling fans on Amazon. Customers have the option of choosing 1 fan or 3 fans. However, if you are going to use this for home use, you should do well with the 1-fan option.
For ideal positioning, this features a double hanger bar system and the grille is attached directly to housing with torsion springs. In addition, this is a low noise mount type rated that is ideal even for continuous run.
Customers who have bought this all totally agree that this is yet another quality bathroom ceiling fan from Panasonic.
Ventline V2262-50 Ceiling Exhaust Fan
For small-sized bathrooms, you do not really need to spend more to get a decent ceiling fan for your bathroom. This Ventline ceiling exhaust fan features a dynamically balanced polypropylene blade which will never bend out of shape regardless of how long you use it.
Customers who have bought this find it to be more than ideal for small bathrooms and even for mobile homes. The Ventline comes exactly as pictured and described. It totally fits their bill yet was sufficiently quiet and durable.
NuTone Model QT200 Twin Ventilator
If you are looking for a high CFM ceiling fan, this is your best bet. This will be great for those with connecting bathrooms and closet, large public bathrooms, and even conference areas of as much as 375 square feet. It boasts of 200 CFM which makes for powerful ventilation yet it has a quiet blower.
Customers who have bought this are extremely satisfied. Some have even used the NuTone for as long as 10 years and never encountered a single problem with it. It is quiet yet extremely powerful.
Have you noticed that your bathroom's glory is fading away faster than the other areas of the house? That is probably due to the moisture and humidity which paves way for molds, mildew, and all sorts of problem for your drywall. Get yourself a good bathroom ceiling fan and not only will you save on future repairs but you will instantly feel more comfortable.