You know you want to have a cozy and spacious house for your family. To provide comfort especially during hot and humid summer months, ceiling fans are usually the appliance of choice. They serve the purpose of cooling down the room without the shock you get when the electric bill comes in.
Small ceiling fans, on the other hand, are perfect for tight spaces. They are convenient, inexpensive, and low maintenance.
Features of a Small Ceiling Fan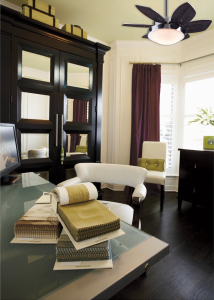 A small ceiling fan is chosen mainly of the following advantages they have over bigger, bulkier models in the market.
In general, a small ceiling fan is below 44 inches in size. The size makes it more convenient and easier to mount. They are suitable for just about any room in the house but would greatly benefit smaller, cozier spaces. Also, with the small size, cleaning can be much easier and maintenance is problem free.
Through a wide array of ceiling fans available in stores and online shops, you can definitely find the exact design you like. Although they may be small in size and not as grand as those you find in bigger homes, small ceiling fans have their own beauty to offer for your home. You can find the smaller ceiling fans in a very modern but also more traditional design.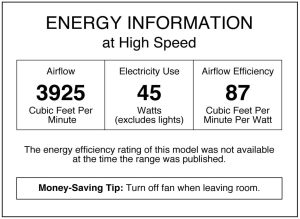 You can guarantee that most small ceiling fans have low electricity consumption compared to those commercial and mainstream sizes available. Not only do you save on space but also in your electric bill.
Modern ceiling fans are very convenient, thanks to the remote control. With just a few button presses, right from the comfort of your bed or seat, you can easily turn the ceiling fan on or off as well as adjust its speed.
A Quick List of Buying Tips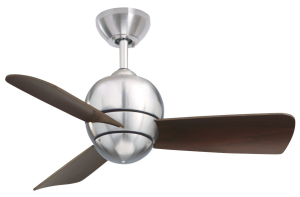 To help you make a better decision when it comes to small ceiling fans, here is a quick list for things you need to consider when shopping.
Visit the most trusted online stores where you have buyer protection.
Choose the brand and design most suitable to the space you plan on mounting the ceiling fan.
These smaller ceiling fans still vary in size so be sure to look for the one ideal for the room that it will be installed in.
Read customer reviews. They provide valuable information that can help you with your decision.
Price should never be the only consideration although it gives you a good scope of models to consider. Still, stick to your budget. With the number of ceiling fans available in the market today, there should still be a decent choice within your budget's range.
Top 3 Best Reviewed Small Ceiling Fans on Amazon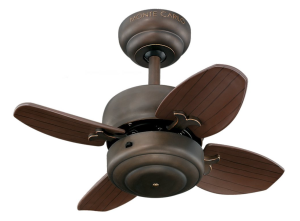 And yes, given the great selection of ceiling fans available on Amazon, it is so easy to get distracted from your main purpose of getting the best unit for your home.
To make shopping even more convenient, here are the three of the most favored small ceiling fans.
Westinghouse 78108 Petite Hugger-Style Ceiling Fan with Light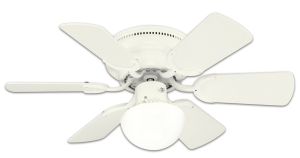 This ceiling fan features a dual benefit of warm lighting and convenient climate control. It is stylish, low profile, and accommodates low ceilings and smaller rooms. This Westinghouse fan is known for its whisper-quiet motor, which allows you with customizing the air movement. It is a cost-effective, eco-friendly addition to your homes as it is low maintenance and a great energy saver. We've given the Westinghouse 78108 ceiling fan a 4 star rating.
Minka-Aire F518-WH 44-inch Concept II Flush Mount Ceiling Fan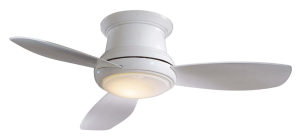 This ceiling fan may be simply designed but is packed with great features. The Minka-Aire F518 is continuously receiving positive feedbacks from users because of the 75% less time for assembly along with the long list of features it offers. The Minka-Aire ceiling fan is a 3-speed remote controlled fan in forward and reverse, enabling you to make use of it both in the summer and winter seasons. It also has a full range light dimmer. Due to the fact that the Minka Aire F518-WH is so beloved by many other buyers, we've given this ceiling fan a 4.5 star rating!
Hunter Fan Company 52090 Watson New Bronze Ceiling Fan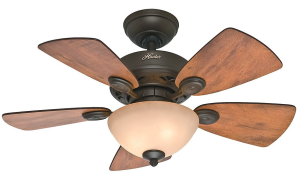 Its WhisperWind motor provides for ultra-powerful air movement without the unnecessary noise. It also comes with an installer's choice for position mounting system for flush, standard, or angled mounting. Made by the Hunter Fan Company which is known for its seamless products for over a 100 years, this ceiling fan is tried, tested, and proven to bring cool yet subtle winds into the comfort of your homes. The reputation of Hunter and the flexibility of mounting the Hunter 52090 has resulted in a 4.5 stars rating.
Small ceiling fans may not look like much with respect to their size but they can provide the very same comfort that bigger models offer. They are the perfect choice for small spaces where every inch is valuable real estate.