No matter what interior designers say, ceiling fans at the kitchen will never go out of style especially during summer when it is just sweltering hot. If you still do not have a kitchen ceiling fan, then you still must be enduring the extreme heat whenever summer kicks in. If you still think that having a fan in the kitchen might ruin your gorgeous kitchen design, then you must have been missing a lot about the latest designs.
Regardless if you have a contemporary, modern, or even a retro themed kitchen, there is surely a kitchen ceiling fan to complement it. With the numerous ceiling fan styles, you can just have to pick out which you think is most suitable for your kitchen.
Best Features of Kitchen Ceiling Fans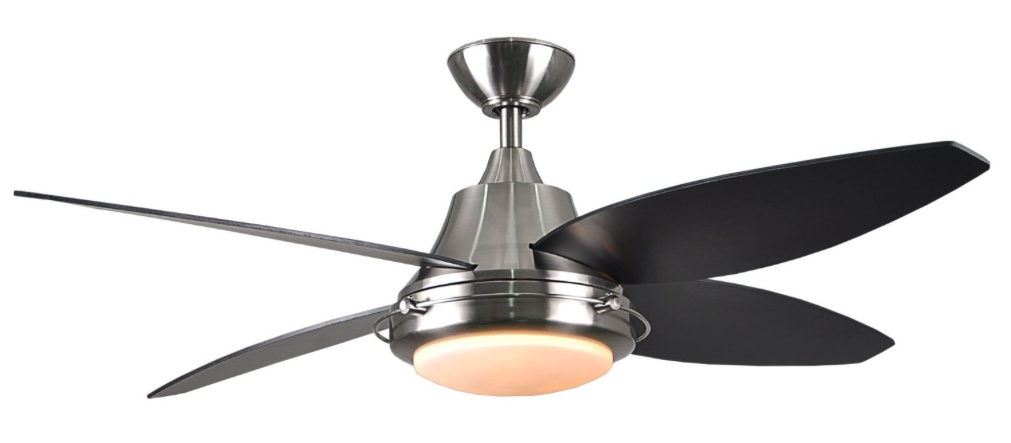 Ceiling fans are extremely popular because of their great capability of cooling even the hottest rooms in the house including the kitchen of course. Ceiling fans improve air circulation given that it can become extremely hot when someone is cooking in the kitchen and you do not have an exhaust.
A ceiling fan in the kitchen helps remove unwanted odors by dispersing them right away while providing much needed cooling comfort.
What To Consider When Buying Kitchen Ceiling Fans
Some say that buying a ceiling fan for any other part of the house is way easier than picking out a ceiling fan for the kitchen. Come to think of it, there is some truth to this as there are quire more considerations when it comes to kitchen ceiling fans. Kitchens are naturally more complicated than living rooms since it gets more foot action and gets dirty the most. There are also less brands offering ceiling fans suitable for in the kitchen.
Whether you are thinking of your dirty kitchen (if you happen to have one) or you main kitchen, a fan could very well make cooking more comfortable. However, there are several things one must consider before purchasing a ceiling fan for the kitchen. Check them out:
Size of the Kitchen
The size of your kitchen ceiling fan is always dependent on the overall size of your kitchen. Most ceiling fans indicate the room size it can efficiently cool.
Do you have enough lighting in your kitchen or will you benefit from additional light? Depending on your answer, you can opt for the ceiling fans with light or without light.
If you have a passion for cooking and cooks most of the time, then it would be practical to look for ceiling fans that bear this in order for you to save on electricity.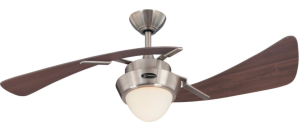 This offers utmost convenience especially the fact that there are times in cooking and baking where there should be no blowing air and times where it is allowed.
Remember that the kitchen ceiling fan blades should be at least 7 feet above the floor or you risk getting your hair pulled up or any of the household bumping their heads into the fan. If you have a low ceiling, you could opt for a flush-mounted ceiling fan.
This is of utmost importance because the kitchen is a fire hazard area. Make sure you hire a professional if you are not completely knowledgable with electrics.
Top 3 Best Reviewed Kitchen Ceiling Fans on Amazon
Kitchen ceiling fans come in all sorts of shapes and sizes to suit every person's kitchen need. From convenience to safety up until the design, there is a huge selection to choose from which makes shopping for these fans a bit frustrating.
Remember the tips we gave above and you should not have any problem. In addition, we have put together three of the best reviewed kitchen ceiling fans to give you an idea of how it should be:
Minka Aire F519-BN Concept II Flush Mount Ceiling Fan
This is a 52-inch ceiling fan with a very powerful motor and a 100W halogen light. It is very ideal for kitchens with low ceilings considering its hanging depth and ample illumination capacity. This Minka Aire even comes with a remote control system. The contemporary design is perfect for kitchen and food prep areas.
After more than 190 reviews, this now beams with a 4-star rating with most customers being absolutely satisfied with this Minka Aire fan.
Emerson Ceiling Fan CF144ORB Curva Sky Ceiling Fan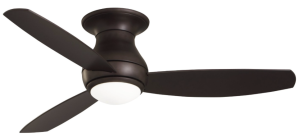 This simple but amazing ceiling fan not only works well on kitchens but also suitable for outdoors because of its three all-weather oil-rubbed blades. It features six speeds which is controllable by the LED remote control and has an integrated light fixture of two 50-watt mini candelabra halogen bulbs.
Shining with an almost perfect 4.5-star rating after over 40 customer reviews, this ceiling fan model is regarded as a beautiful and solid ceiling fan.
Casablanca Fan Company 54101 Durant Brushed Nickel Ceiling Fan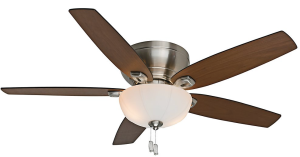 This is another great ceiling fan for the kitchen because the blades are specifically coated with patented Dust Armor nanotechnology which repels dust build-up. This Casablanca fan also has two light bowl kits that use two medium CFL bulbs and has a powerful direct drive motor for the unparalleled power but silent performance.
Another one gleaming with a 4.5-star rating, this one has got more than 30 satisfied customer reviews. Customers love how beautiful this kitchen ceiling fan looks and how fast the blades go. Installation is another plus factor as it was easy and straightforward.
Finally choosing to have a ceiling fan in the kitchen is a good one, but now you are bombarded with a long list of ceiling fan models that you don't know where to start! If you are tight on finances, start with a price range. If you have money to spare, check the best rated kitchen ceiling fans on Amazon.