It's not uncommon to find ceiling fans in most homes. They are widely used because of its conventional way of circulating air around the house, it doesn't require any floor space as compared to other fans, and it doesn't need to be mounted on a wall like that of an air conditioner. However, there are times when ceiling fans can make a room look crowded and dangerous if mounted to low.
Flush mount ceiling fans are specifically made for houses with low ceilings. Most of the time they don't have rods and if ever there is, it's not as long as a typical down rod. Ceiling fans flush mount are usually below an inch from the ceiling enough for its blades to circulate air within the room without occupying much space or risk anyone with possible injury.
What To Consider When Buying Flush Mounted Ceiling Fans
Are you buying a new or replacing your old ceiling fan? Here are some few tips on how to buy the right flush mount ceiling fan for your home.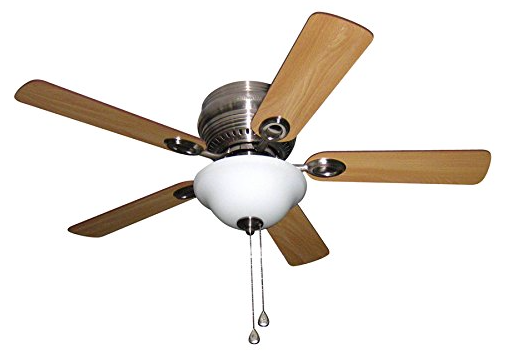 Always the first consideration in buying a new ceiling fan is the ceiling height. Determining the height will help you know what type of ceiling fan you should buy as each type of ceiling fans are specifically made for specific ceiling heights. Ideally, ceiling fans should be placed at approximately 8 feet from the floor.
Flush mount ceiling fans are made for houses or rooms with low ceilings. This type of fan are mounted flush to the house's ceiling; hence, eliminating the need for any attachment.
More than function, choosing a ceiling fan with well-designed blades is a good consideration. Ceiling fans these days are now with reversible blades wherein you can simply turn the blades upside down to give your ceiling fan a new look and be useable in summer and winter. In addition, the quantity and shapes of ceiling fans are now changing wherein some have nine blades, making the ceiling fan even more energy efficient as before!
What's Your Style?
Although made specifically for small rooms, flush mount ceiling fans can come in different styles and packages. There are fans that come in with reverse airflow function that helps keep the room warm during cold weathers. There are also fans that have remote controls with it.
The procedure on how a ceiling fan is installed is also of good criteria. Ensuring proper installation will secure the fan's maximum functionality and safety. Most of the time, flush mounts ceiling fans already have self-assemble kits that'll make it easier for you to do the installation. An extra advantage of a flush mounted fan is also that it won't wobble that quickly since the downrod is short.
Accessories to Suite Your Fancy
There are ceiling fans that may be modified according to your preferences. They may come with Angled ceiling adapter that will help in mounting the fan on angled ceiling. Downrods for flush mount ceiling fans is not as high as the typical downrod.
Light kits may also be a good accessory, too. If you wish to have both functions in one, you may opt to add a light kit after its installation that is if the ceiling fan is compatible with it. You can also purchase remote control for your newly installed ceiling fan, so you want to manually control your ceiling fan by pulling its chain.
Best Reviewed Flush Mounted Ceiling Fans on Amazon
Hunter 53091 Builder Deluxe Ceiling Fan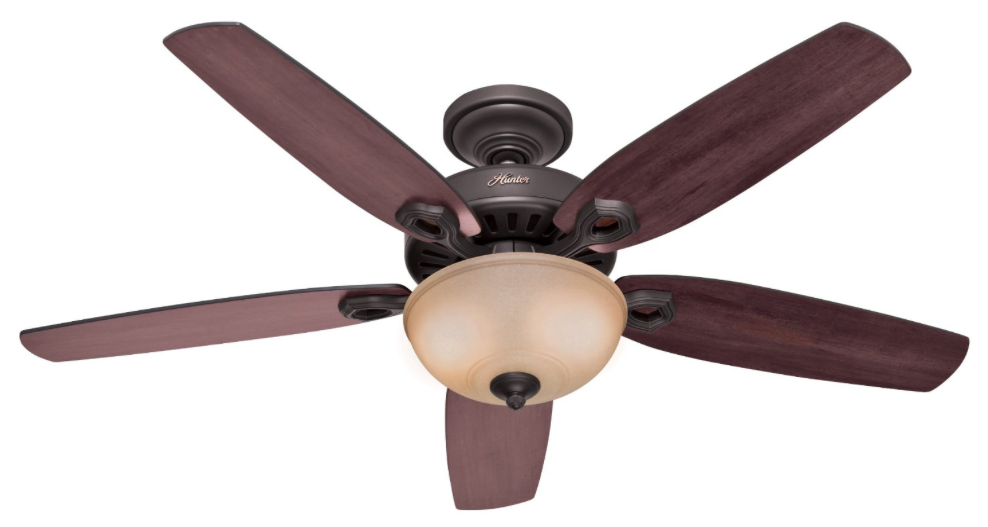 You actually get three options when it comes to mounting the Hunter 53091 – the standard down rod, on an angled ceiling, and flush. It also comes with a single light kit which you choose not to install along with the fan. It features the 3-speed Whisper Wind quiet motor for excellent cooling power without the noise.
It has a solid 4.5 average star rating based on 407 customer reviews. After some time, a few buyers had issues with the light going out on its own and a louder than normal noise. Still, looking at the positive recommendations from 71% of the buyers, it's still a ceiling fan worth considering.
Minka-Aire F518-WH Concept II Flush Mount Ceiling Fan
If you're not good in assembling stuff, the Minka-Aire F518-WH Concept II may just be the ceiling fan for you! It requires less complicated installation so you don't have to spend time figuring out the manual. The ceiling fan is very simple but sleek. There are three finishes to choose from to fit your interior better – brushed nickel, oil rubbed bronze and polished nickel.
It has a reliable 4.3 average star rating from 328 customer reviews, 67% of which gave it 5 stars.
Emerson CF712ORB Pro Series Indoor Ceiling Fan With Light
A great addition to any rustic themed space, the Emerson CF712ORB highlights its five reversible dark cherry/medium oak blades, wooden chain pulls, an amber scavo-glass globe, and oil rubbed bronze finish. It has brackets for both flush and downrod mounting whichever way you choose to install this ceiling fan.
Flaunting an average of 4.5 stars from its 64 customer reviews with 72% of those giving it 5 stars and only 3% rated it with just one star.
Whether you are looking for performance, multi-functionality, or aesthetics, it's important to check which models suit you needs the best and then consider the price range of the flush mount ceiling fans you have shortlisted for a well-informed buyer's decision.